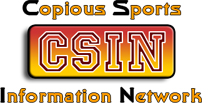 Copious Sports Information Network (CSIN)
"Build and Manage Your Sports Management Career"
Welcome to Top Basketball Coaches Survey
Based on the criteria below, nominate and confirm your favorite coach.
The Sport's Portal is your GAMEPLAN for your future success and security! Join the 21st Century and fast forward your future and enjoy the endless possibilities of cyberspace.